---
WINE PLANTS
We set up Wine plants based on Indian fruits like Kokam, Jamun and Jack Fruits.
---
HOME


Fruit Products

Wines
---

Shatavari

Ashwa gandha

Sarpa gandha

Safed Musali

Neem

guggul

Henna


Moringa
---

Aloe Vera

Properties

Bulk Products

Retail Products

Specifications and Drawings
---

Contact Me

My Resume
---
---
---
Henna (Mehendi)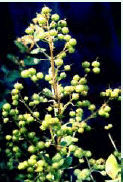 Introduction: Henna (Lawsonia inermis L.), popularly known as Mehndi, has long been used in India and the Middle East countries.

Applications / Uses: Henna is used for colouring palms of hands, soles of feet and finger nails. Henna is also used for dying of hairs, beard and eye brows, for personal adornment. Tails and manes of horses are also sometimes dyed with henna. Henna is also used for colouring leathers and skins. Recently, there has been an increase in its use as a hair dye in the Western Europe and North America.

The Demand : In 1955, India produced 2,800 tons of henna and Punjab and Gujarat were the major henna-producing states while Rajasthan had only 5 per cent share in the total production. In 2003-04, the production of henna in Rajasthan was of 37,540 tonnes, with 90 per cent share in the total henna production of the country. The trade of dried henna leaves in the Sojat city regulated market (the only regulated market of henna in the country) increased from 10,264 tons to 24,744 tons, at an annual compound growth rate (ACGR) of 9 per cent during the period 1995-2003. As per the FAO report, India exported 4,500 tonnes to 7,600 tonnes of henna per annum during the period 1988-93. In the year 2003-04, the estimated export of henna, in all forms, was around 10,500 tons with a value of around Rs 91 crores.

Cultivation Process : Deep, fine sandy or medium-textured, well-drained soil is considered best for henna cultivation. As a dye crop Henna requires hot, dry and sunny weather conditions for higher dye content and proper maturity of leaves. Henna is mainly cultivated as a rainfed-kharif season crop in the semi-arid areas, with average annual rainfall of about 450 mm. The cultivation practices of henna crop have been developed indigenously over the past five decades. Seeds are sown in the month of March in nursery and seedlings (two-month old) are transplanted in the well-prepared fields during July to August, coinciding with monsoon rains. Transplanting is a very much specified operation which includes preparation of seedlings (separation of better ones from the lot and cutting from shoot and root portion), opening of hole by a pointed iron bar/ share of plough, placement of seedling and packing of holes; and all these operations require skilled labourers. The crop, if established properly, starts giving returns from the establishment year itself, but yield is nominal and normally does not exceeds the maintenance cost (hoeing and weeding operations). From second year onwards the economic yields are harvested by the farmers which continues for 25 years with incurring of only maintenance cost in the form of hoeing, weeding and harvesting, which is again very much specified and requires skilled labourers. Generally, no manures and fertilizers and plant protection measures are used and a single cutting of leaf is taken every year under the rainfed conditions. The crop is highly susceptible to rainfall during its harvest stage and areas receiving very good rainfall during the months of October to November are not suitable for its cultivation.

Plantation: In the beginning, henna yields are low but attain peak production from the fourth year onwards which continues up to 15 years of plantation. Thereafter, Henna yield gradually declines but remains economic up to 25th year of plantation.

Return and Yield: Henna is a perennial plantation crop with economic life-span of 25 years. Henna is a highly capital intensive crop as Henna requires about Rs 30,800 per hectare for establishment. On an average, Henna provides a net return of about Rs 8,300 per hectare.