---
---
Used Cooking Oil
Main activities are the collection and processing of used cooking oil. Oil used in frying is available as used cooking oil. It is of vegetable or animal origin. When used for some time for frying, the oil turns rancid (oil decomposes and forms Free Fatty Acids) and may give a bad smell and taste to the food. It is changed regularly to get better results. Collection agency supplies all its customers with containers suitable for storing UCO. Container sizes can be 200, 400, 600 and 1000 liters for used cooking oil collection. Collection agency takes care of all collection related tasks, including replacing full containers with clean, empty ones, ensuring that customers are not exposed to any risk. UCO is an important source of raw material, outside India, for the production of biodiesel. Europian companies import 50% of their UCO requirements.
Prominent Collectors of Used cooking Oil:

Aries Enterprise, Jaipur, Mr. Sushil Vaishnav M: 99836 35111, arises.org@gmail.com. Collecting 100 tons per month.

Aris Bioenengy P. Ltd, Mumbai, 9822199122. Collecting 100 tons per month.

Erigo Trading and Contracting WLL, Mr. C. H. Haksar, Director Opertation, haksar@erigo.co, sourcing from Kerala (India), Gulf, Tunisia, Malaysia etc.

K.Nandini Refineries, 6/1 Hetamdandi, Amaria, Pilibhit, Uttar Pradesh, Pin Code 262121, Santosh Kumar Singh, 9568552407, office@knandinirefineries.com, www.knandinirefineries.com

Muenzer Bharat Private Limited, Office: 506 /507, The Great Eastern Galleria, Plot No. 20, Sector 4, Nerul, Navi Mumbai, 400706, M: +91 9619760249, office@muenzer.in. Factory: Plot No: D-177-A MIDC T.T.C Industrial Area, Nerul, Navi Mumbai 400706,

for List of collectors of Used Cooking Oil approved by FSSAI.
When the waste cooking oil arrives at production facilities, used cooking oil is processed and cleaned by heating it to liquid form. The fat is separated from waste and debris, which consists mainly of water and protein from food waste or residue. When processing is finished the purified oil is used as a raw material in biodiesel production or alternatively, as technical grease or as an intermediate for distilling fatty acid and glycerol.
---
Oil Marketing Companies are going to buy BioDiesel at Rs. 106 per liter. But now they will not buy Biodiesel produced with UCO as raw material. BioDiesel produced with other oils will only be accepted.
Oil Marketing Companies to encourage BioDiesel production in 100 small plants all over country.
Zomato has started collecting Used Cooking Oil. Target 1,000 tons per month.
No guidelines are mentioned how collection targets will be achived. Currently oil marketing companies are ready to buy Biodiesel. Their conditions are:
Minimum supply should be 10 tons in tanker.
It should be as per IS Standard, IS 15607 : 2005.
It should be delivered to their depots.
Most of the 100 small plants, that will be set up all over country, will find it difficult to fulfil these conditions. Quantity of Palm Stearine or Tallow they will be able to procure will be another question. If BioDiesel is bought at Rs. 106 per liter, prices of Acid oil, Palm Stearin, Animal Tallow will shoot beyond Rs. 95 per liter. It will benefit the parties selling oil, and BioDiesel Manufacturers may not afford the price. The raw material price rise will also put small scale cottage soap industry to shut its shops (Production of soap in India is 800,000 tons per year).

To produce BioDiesel as per Indian Standard, IS 15607 : 2005 (or European Standard), you need to install Ultrasonic or Shock Wave generator. Also you need to use Centrifugal Separators for better separation. These two equipments are very expensive and cost almost same as all other equipments together. Installing these is not viable for small plants having capacity less than 30,000 liters per day, however US Standard ASTM D-6751, can be achieved without these two costly equipments.

Another hazard for small plants is, control of Methanol Storage. If not controlled properly, it may find its way to illicit liquor and deaths of poor people.



for MSDS for Used Cooking Oil.
---
Used Cooking Oil Collected can be used for a number of applications, other than Manufacture of BioDiesel. Some of these applications do not involve any processing: Lubricant, Lamp Oil, Furniture Conditioner, Leather Preservative, Soap Manufacture, Hair Moisturizer, Car Cleaner, Composting and Animal Feed.
---
Used Cooking Oil Collection
Is it worth undertaking Used Cooking Oil Collection business?: Used Cooking Oil Collection is a growing business worldwide, especially now in India, UAE, Qatar, Kuwait etc. It helps restaurants to get rid of their waste product, which if drained to sewer, would otherwise put higher treatment load on waste water treatment plant. Collectors can convert Used Cooking Oil into BioDiesel or sell it to manufacturers of BioDiesel. Manufacture of BioDiesel is like purifying used cooking Oil. Since BioDiesel is a fuel, it does not have laws applicable to food production. It is governed by rules of petroleum products. (In Asian countries, collection of non-edible rice bran oil is a big business.)

What is the profitable minimum collection?: Since it is collected by sludge collection trucks, minimum collection should be one truck load. Same truck can have multiple trips, and collect more Used Cooking Oil. The volume of collection of Used Cooking Oil also depends on storage capacity, and how quickly it is sold for Manufacture of BioDiesel.

What price to expect per ton of Used Cooking Oil?: The price varies from buyer to buyer and quality of Used Cooking Oil. It has higher selling price if it has low free fatty acid content, and if it is lightly coloured. It is widely exported to Europe. For export to Europe you require ISCC (International Sustainability & Carbon Certification) awarded by SGS Germany for used cooking oils, guaranteeing the traceability and reduction of greenhouse gases. The price range can be US$ 650 to 1,100 FOB Europe.

Is it necessary to have the used cooking Oil clean and dewatered before selling to customers?: Preferably it should be free of moisture and food ingredients. It can be sold at better price.

What are the procedures to have safe production and manpower working place?: The truck operating workers should have training of how to operate the truck. The sucking mechanism should be operated only when end of pipe is dipped in oil. The Used Cooking Oil should not spill while sucking it from storage drums at customers premises. Only one person, who drives the truck is required for operation. Some staff is required at storage depot.

Who are the customers willing to buy such product?: Most manufactures of BioDiesel are constantly on look out for new sources of Used Cooking Oil.

What are the quantities expected to be demanded per year?: Most collectors collect around 300 to 400 tons of Used Cooking Oil per month at one location. It can be duplicated at multiple locations.
---
In India, vegetable oil is used for 2 purposes. 60% of oil is used for cooking of vegetables and lentils. In this case oil is used to extract spices (Tadka) and then raw or cooked vegetable is added to it. Same is the case for lentils. Some oil is mixed with dough to prepare Chapatis (Indian flat bread). Much of oil used for shallow frying of pancakes (Dosa or Utappa). This oil can not be recovered as used cooking Oil. Roughly 10% is used for frying in organized sector. In this case people will not buy fried items, having no fat content, like
Wafers (Branded Potato Wafers have a fat content of 25 to 30%, as indicated on its pack).
Bhujia (Branded Bhujia has a fat content of 48%, as indicated on its pack)
Hence practically very little Used Cooking Oil is available in India. The eating habits, are different in Western and Eastern world (in India, Pakistan, Bangladesh, Sri Lanka and ASEAN Countries). Unless there are thousands of outlets like McDonalds or KFC, who force their franchise to reject UCO at the end of thee day, very little UCO will be available.

The Food Safety and Standards Authority of India (FSSAI) has included a total polar compound as a criterion for the quality of vegetable oil to be re-used. It is well known that repeated use of the same oil for frying of foods leads to changes in physiochemical, nutritional and sensory properties of the edible oil. It is now Mandatory to monitor the quality of vegetable oils during frying. In order to safeguard consumer health, FSSAI has fixed a limit for Total Polar Compounds at 25 percent beyond which the vegetable oil shall not be used.

The most abundant compounds formed possess higher polarity than their parent triglycerides (TG) and low volatility. Polar compounds account for all the nonvolatile alteration compounds formed during frying, compounds originating from oxidation at high temperature (oxidized monomeric TG, dimeric and oligomeric TG) and compounds released from hydrolysis (fatty acids and diacylglycerols). Free Fatty Acid content in Used Cooking Oil depends on Total Polar Compounds.

The Used Cooking Oil having such high amount of polar compounds, can not be used for production of BioDiesel, using standard Trans-Esterification process. Enzyme based process can also be used for this raw material. However, Enzyme based process is tricky and enzymes are expensive and not easily available. Cold supply chain for enzymes is also a problem.

Indian have been trying to collect Used Cooking Oil for last so many years, but could not get much. One big Potato Wafer manufacture, who supplies to Mumbai, consumes 10,000 liters of Palm Oil per day, but rejects about 400 to 500 liters per month as used cooking oil. Another large Bakarwadi manufacturer rejects 3,000 to 4,000 liters per month. Most of these large units add fresh oil to top up. Hence the criteria of using it 3 or 4 times does not apply to these units. At this level of supply, we will have to collect Used Cooking Oil, from few thousand of users to run a plant of BioDiesel of viable size. This collected oil, should be used for manufacture of BioDiesel immediately. For that collection rate per day, should be same as production capacity of BioDiesel plant per day. If this oil is stored for longer time, during collection, Free Fatty Acid content of it increases.

However, this is a good news for small scale cottage soap industry (consuming 500 to 1000 liters per day). Cottage soap industry is currently facing acute shortage of vegetable oil, palm stearin and animal tallow. Even if they are offering Rs. 90 to 95 per liter for oil, they are not getting enough vegetable oil. Currently production of soap in India is 800,000 tons per year (for that 600,000 tons of oil per year is required). Large proportion of edible / non-edible oil is used by this sector. Used Cooking Oil with Polar Compounds at 25 percent is boon to cottage soap industry, and curse for BioDiesel Industry.

Many cottage soap manufacturers mix this oil with alum water, with agitation, and then settle it. The food content of oil gets transferred to alum water layer. It is then settled and water layer is drained to effluent disposal system. After this clarification, Top oily layer is used for soap making. Even if there is any moisture in it, there is no problem for soap making (as water is catalyst in soap making). Moisture in oil has to be removed for manufacture of BioDiesel.

Repurpose Used Cooking Oil: The Food Security and Safety Authority of India (FSSAI) has initiated this effort.


for FSSAI Notification for Used Cooking Oil.

Likely chemical analysis of Used Cooking Oil with 25% Polar Compounds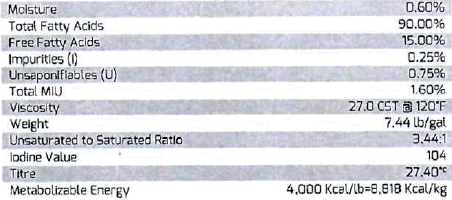 Typical Fatty acid Profile of such oil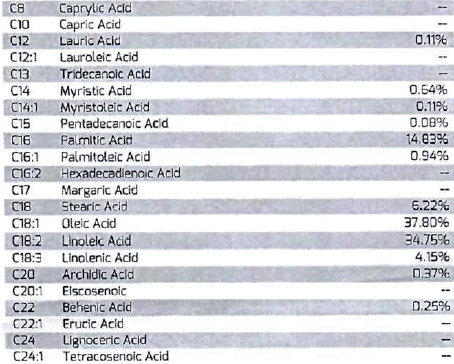 for testing procedure to check Polar Compounds in Used Cooking Oil.
Their goal is to dispose off Used Cooking Oil (UCO) in the right way thereby preventing it from going back into the food chain and risking our people's health. It will be compliant with the FSSAI Guidelines which states, the Oil cannot be used for frying beyond 3-4 times and no fresh oil can be added to such fried Oils with the limiting value of 25% TPC, which means this oil can no more be used, by either the user or further down the Food chain and needs to be discarded. FSSAI guidelines also Prevent, the further sale of such edible oil in the marketplace, to any other Dealer of such Oils.

Our associates in Doha, Qatar collect from thousands of restaurants and businesses across the Qatar and Oman their used cooking Oil. Thsy collect from restaurants, universities, stadiums, zoos, food processors and makers and even home chefs. The oil our associates collect is refined into environmentally friendly biodiesel.

A lot of used cooking Oil is available from sources all over the world, through our associates in UAE. In India UCO is under restricted list and Actual users can register with Directorate General of Foreign Trade (DGFT) at Delhi for imports. Used cooking Oil falls under appendix 26. Used Cooking Oil can only be imported by parties having their own BioDiesel Plants. BioDiesel produced should be exported.

Customs Import Duty of used cooking oil (Animal Or Vegetable Fats And Oils And Their Frac-Tions, Boiled, Oxidised, Dehydrated, Sulphurised, Blown, Polymerised) is under HS Code 15180039

Customs Import Duty of Palm Fatty Acids Distillates (Industrial Monocarboxylic fatty acids, Acid oils from refining and industrial fatty alcohols) is under HS Code 38231900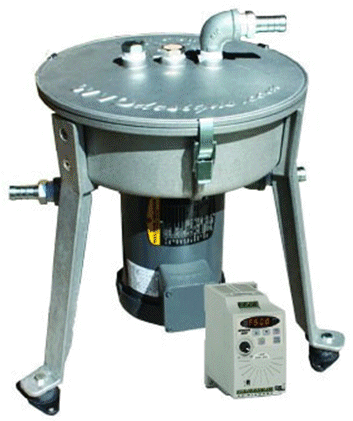 SAVOIA C1 Centrifuge: The Power Centrifuge eliminates the need for filtering, settling, pumping, pressure and headaches. Our associates SAVOIA have developed that special, reliable and trusty tool that once you have it in your hand, you can't live without. It processes 65 Liters / hour of crude Used Cooking Oil or WVO is ready to make biodiesel fuel.

This centrifuge spins at 6000 rpm and produces 3800 units of G-force. Centrifuge is gravity fed and designed to be a single pass system. No messy filters to buy, change or monitor. The dirt and water become trapped in the centrifuge bowl, while the clean oil sprays out over to the top, collecting on the sides of the housing, then flowing out the drain tube. The centrifuge bowl is 8" outer diameter and will hold 22 ozs of contaminants. The bowl will need to be cleaned approximately every 300 gallons (1200 Liters) and features a drain port on the side of the casting for easy removal. This centrifuge works by applying g-force to a liquid, causing a settling of the denser particles and fluids to occur. Water and dirt are heavier than oil, so the centrifugal forces pull the unwanted particles and liquids out of the oil. This allows you to safely burn the oil or convert into biodiesel. The Baldor 1/3 HP / 250 watt motor is custom made and features special upgrades for use with waste oils. Sealed bearings and a special channel have been added to protect the motor.

The unique lid design aids in the removal of water. Water is a primary target when cleaning oil. This unique design allows you to vent off water that turns to steam when heated or that happens to make it out of our bowl in the mist spray. It is recommended to heat the oil to at least 150F for better separation which will allow a flow rate of 15-25 gph. Ideal temperatures are 150-200 degrees F. Non-heated oil can be used, but not nearly as effective. This will lower the flow rate to 5 gph or lower depending on the temperature and the quality of the oil.

1 Year Limited Warranty: This centrifuge comes with a free replacement of any part that wears out or breaks during the first year. This warranty includes seals, latches, bearings, cast structure, and the rotor. Labor for repair and shipping is not included.

5 Year Replacement Warranty On Major Components: Our centrifuge comes with a 5 year replacement warranty on non wear items such as bearings, seals and brushes. Shipping is not included.

Duty Structure in India

Export Oriented Units (EOU): If your unit is registered as EOU, you can import Used Cooking Oil without any Customs Duty. However, you can not sell, Biodiesel in Indian Market. You have to export all the Biodiesel manufactured. Freight charges for import and export is the deciding factor for profitability of the project.

If you do not have EOU status, there is 35% customs duty on the price of UCO. However, you can sell Biodiesel in Indian market or export.
Biodiesel processing cost is around Rs. 10 per liter. This plus landed cost of oil per liter, is cost of manufacture. Price of BioDiesel in India should be 10% less than that of Diesel as calorific value of BioDiesel is 90% that of Diesel.
Typical Specifiction for Used Cooking Oil
Item Grade S500 / S50
Density (20°C) / (kg/m³) 820– 900
Kinematic viscosity (40°C)/(mm²/s) 1.9 - 6.0
Flash point (closed cup)/°C = 130
Titre C (melting point) /°C Actual measure
Sulphur content (mass fraction) / % 0.05-0.005
10% Carbon residue (mass fraction) % = 0.3
Ash content (mass fraction) = 0.020
Moisture (mass fraction) = 0.1
Mechanical impurity NO
Corrosiveness to copper-copper strip (50°C, 3h) / grade = 1
Cetane number = 49
Oxidation stability (110°C)/hour = 5.0
Acid value/ (mg KOH/g) = 0.8
Free glycerol content (mass fraction) % = 0.020
Total glycerin content (mass fraction) % = 0.240
90% recovered at temperature (°C) = 360
Typical UCO Import Cost:
CIF Nava Sheva 20MT flexi tank: INR 6,80,000
Transportation: INR 20,000
Total cost Feed Stock: INR 7,00,000
Custom Duty 35%: INR 2,38,000
Cost / Kg: INR 47
Cost / Liter: INR 40
---
ACID OIL
Acid oil, which is a by-product in vegetable oil refining, mainly contains free fatty acids (FFAs) and acylglycerols. Acid oil also contains 1 to 2% phospholipids, 8 to 10% sterols and 5 to 8% free moisture. Acid Oil has pungent odour and dark brown colour. Amount of acid oil produced is 4% of Vegetable oil refined. The soap stock generated from the Vegetable Oil Refinery is collected into the reaction vessel and allowed to heat at a temperature of around 90 to 95 degrees Celsius in combination with the steam. Acid media such as Sulphuric Acid or any other type of similar media is carefully added to the soap stock.
Composition of Acid oil % by weight
Total Fatty Acids 88%
Mineral Acids 1.1%
Moisture 2.2%
Unsaponifiable Matter 8.6%
Most properties of acid oil are similar to the corresponding oil. 70 to 80% yield of Biodiesel can be obtained from acid oil.


Addresses of Acid Oil Supplier: The oil that is rejected during process of refining, is also available in large quantities. This oil has free fatty acid content of 15 to 20%, and can be used for manufacture of BioDiesel.

Suresh Joshi, M: 94400 55892, joshi.s25@gmail.com, Hyderabad

Dinesh Sales Corporation: 15, Prafulla CHS, A.G.Pawar Lane, Near Voltas B House, Opp. Vardhaman Heights, Byculla (E), Mumbai, 400027. Tel: 91-22-23772376 / 23772377, M: 91-9321354239, WA: 91-9320254239, Fax: 91-22-23772377, Skype: dineshsales, http://www.dineshsales.com/rice_bran_oil.htm

S. N. Gandhi, Sona Enterprise, M: 91-9322530191, 105, Ashish Udyog Bhavan, Opp.SNDT College,Near Liberty Garden, Malad(West), Mumbai, 400064, Tel:91-22-66780471 to 473, Fax: 91-22-66780474, sngandhi@vsnl.com, www.sngandhi.com

Rajesh Sharma, Gryfon Commodities, 101, First Floor, Sushant Tower, Sushant Lok II, Sector 56, Gurgaon, 122 011, India, M: 91-9911558807, rajesh@gryfoncommodities.in

Acid Oil is also imported from Bangladesh, Thailand, Malaysia and Indonesia. Import Price Range: US$ 370 to 410.


Address of Animal Tallow Supplier:
Kaumel Kerawalla, 9821600500, kerawallagroup@gmail.com
PAO: Poly-alpha-olefin (poly-alpha-olefin, PAO) is a non-polar polymer made by polymerizing an alpha-olefin. They are designated at API Group IV and are a 100% synthetic chemical compound. It is a specific type of olefin (organic) that is used as a base stock in the production of some synthetic lubricants.
PFAD: Palm fatty acid distillate (PFAD) is a by-product from palm oil refinery process, comprising mostly fatty acids (70% as palmitic acid) and also valuable minor components such as vitamin E, phytosterol and squalene.