NGO Model for Pongamia Pinnata Biofuel Systems

Aboriginal Development Initiative With A Sustainable Income (ADIWASI) Model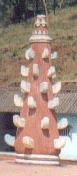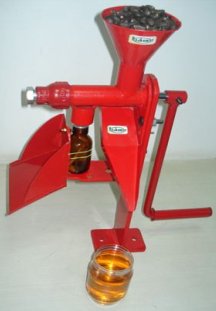 Many NGOs which work for upliftment of Tribals, all over the world, have found this model very effective. There are two schemes.
Scheme 1 : The NGOs set up Hand Operated Expellers like these, (which do not require electric power) in their centers in rural areas. Tribals come to these centers with their bags containing any Oil Bearing Seed like Jatropha, Neem and Pongamia, (Non Edible oils for lamps), Mahua (Edible oils for Cooking) and crush the seeds themselves. The tribals carry the extracted oil home for burning these in oil lamps and for cooking. The Tribals leave the seed cake in these center. The NGOs then process the seed cake to Bio Gas and Bio Fertilizer in their centers, and sell Bio Fertilizer later. Tribals collect sufficient seeds, during harvesting period to last for a year, but crush these to get oil as and when required.
Scheme 2 : The same NGOs buy the oil, extracted as above and sell oil to Temples, Hotels, Households for burning them in simple lamps, as a social cause. The NGOs also tie-up with fuel additive manufacturers and soap manufacturers for buying oil from them, at a specified rate. The profit from sale of oil is passed on to Tribals as reasonably good price.

There is a two step process to convert seed cake into BioFertilizer. In first step the seed cake is fermented in BioGas Plant.

Seed cake has C:N ratio of 40. Most of the Carbon is converted to BioGas and C:N ratio is reduced to 10. Large protein molecules in cake are broken down to smaller molecules. The cake coming out of BioGas plant is then further processed in a simple, low cost, BioFertilizer plant as shown below. The smaller protein molecules are further broken down in BioFertilizer plant, which can be absorbed by plants as fertilizer.
In the sheds the seed cake is eaten by earthworms and bacteria to produce BioFertilizer. Water is sprinkled on the cake heap, which is kept moist at all times. Cake heap is turned upside down once a day. Turing takes 3 to 4 months to complete the process. Bio Fertilizer provides employment to a number of tribals.

For detailed presentation.
---